Accessorizing Your Outdoor Spaces
Whether you're looking for nautical nods, beachy decor, or a sophisticated coastal retreat at home – all of these looks are achieved with the right outdoor accessories. Adding shade, textural layers, storage, lighting, and landscaping allows your family's personality to shine through and brings all of the components together in a cohesive way. Here are some of our best tips for elevating and accessorizing your outdoor spaces.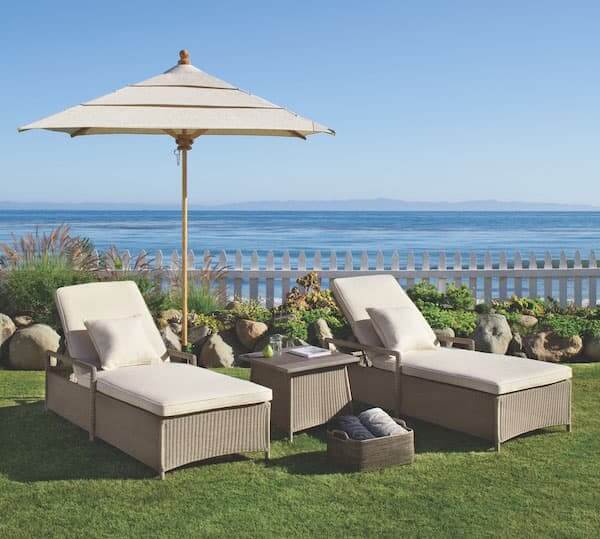 Brown Jordan Southampton Chaises
Cool in the Shade
Umbrellas are a must-have accessory for surviving hot summer days in any well-designed outdoor space.  Understanding the different types of umbrellas: cantilever, tilt and market just to name a few, will help you to choose just the right fit for your space.  Use it as a standalone cooling station near your pool or provide diners with shade by placing a tilt-able umbrella over the table.  Pops of color or patterns that coordinate with your other fabric selections will help you achieve that cohesive look and keep that outdoor "fun" in functionality.
Layer on the Rugs, Throws and Pillows
Outdoor rugs create warmth and visually ground your space. Look for rugs that have soft textures underfoot and most-importantly, durable fabric to withstand the outdoor elements. Pillows and throws add visual layers and create comfortable spaces throughout your yard. Vibrant colors bring a fun vibe while sophisticated spaces may call for more subtly interesting patterns.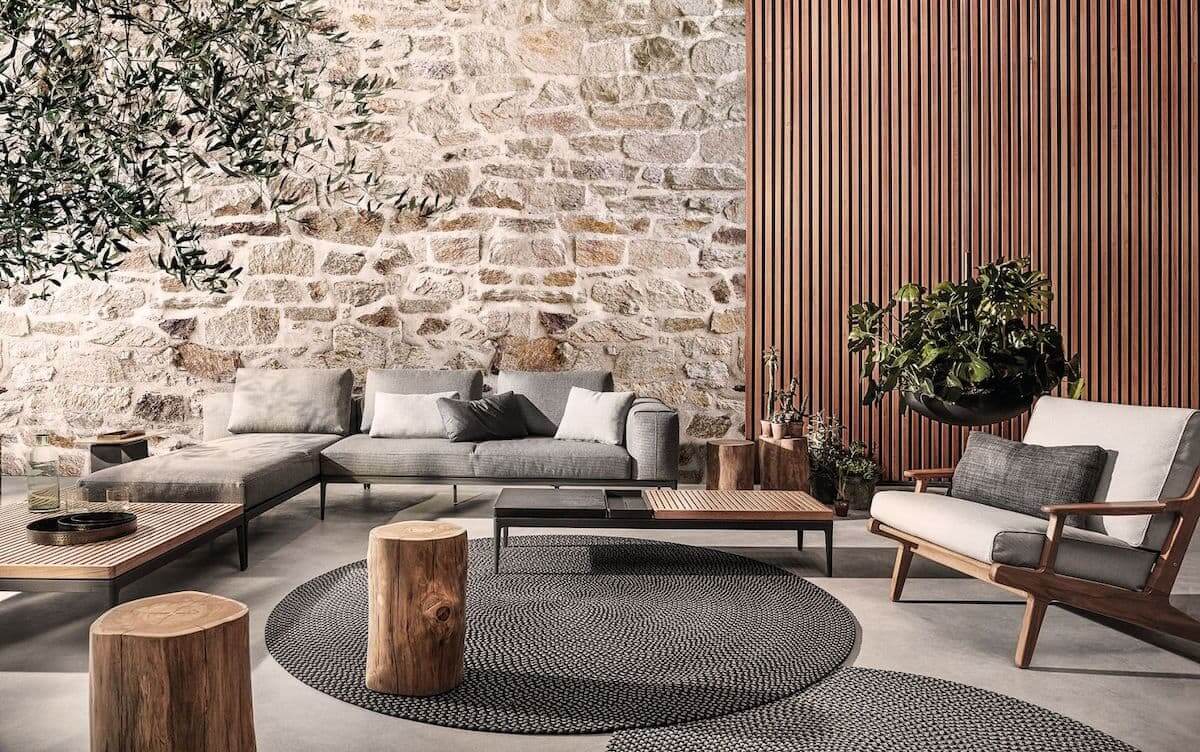 Rugs & Grid & Bay Studio Set – Gloster
Bar Carts, Benches & Baskets
Creating functional vignettes in your yard keeps things interesting when it comes to accessorizing. A bar cart filled with party-ready serveware or everything you need for your next Raspberry Limoncello Prosecco on-hand.
Add a side table with tones that match the rest of your seating. We absolutely love this dual-purpose side table that also serves as an ice-bucket. Add lots of baskets for outdoor toys or extra pool towels and you've created spaces that are beautiful, practical, and ready for hosting.
Lighting and Landscape
Lanterns and lamps are a must-have accessory as the sun sets and the bbq is just getting started. Set the mood with beautiful candles or solar lamps that will cast a soft glow by your seating and dining areas. Don't forget the pool lighting as well. Foliage and florals in well-kept planters sprinkled throughout can fill an empty corner, define a space, and bring a sense of fullness. These small touches make a huge impact on ambiance and visuals.
Gloster Ambient Light
Like jewelry elevates an outfit, accessories allow your outdoor spaces to feel complete. With a little thoughtfulness on design, you can achieve a yard that truly showcases your family's taste and style.  What accessory can we help you find to upgrade your outdoor space?