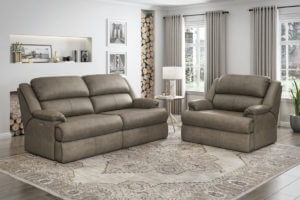 At Omnia, it's all about meeting your needs. Whether you're choosing from luxurious leathers in over 400 colors, selecting from over 150 furniture styles or being taken care of by our top-rated customer concierge, you are the center of our attention. We pride ourselves that every detail is taken care of to ensure your complete satisfaction.
Omnia Leather was born from two Italian families with a vision to combine European leathers with American craftsmanship. Over 30 years ago, they sourced fine quality 100% top grain hides, from some of the oldest tanneries in the world, and opened a fully integrated manufacturing facility in California.
Since then, another generation has taken the helm and Omnia has grown leaps and bounds. The ever-growing style assortment, outstanding leather offering and superior quality have been embraced nationwide by retailers, designers and hospitality firms. That's why Omnia offers endless possibilities for your customers to create something uniquely their own. Our style library is bursting with every style imaginable in all shapes & sizes. Choose from hundreds of 100% top grain leathers, luxury fabrics, or a combination! Cushion and motion options ensure everyone is relaxed.