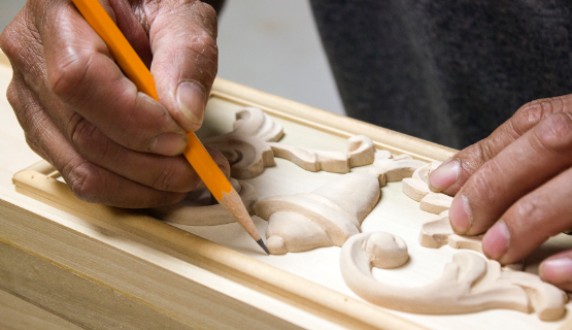 Over the years, the company has preserved a stalwart commitment to traditional styles, and the hand-carving, bench-assembly, and hand-finishing that makes articles of Kindel furniture truly distinctive.
Kindel makes each masterpiece in their Grand Rapids, Michigan facility. Fluted and spiral dowel construction, spline and tenon techniques are how they assemble products and have been for 300 years of fine furniture building. They are known for their amazing finishes. Their process is complex and requires over thirty steps with the final detail being hand rubbing, a step that creates a luxurious depth of finish and tactile feel, second to none. Kindel has over sixty finishes with a broad range of colors to choose from. If you cannot find what you like, they do custom finishes as well.
From top-grade lumber and exotic veneers to finishing materials and fine brasses and hardware, Kindel selects only the finest materials to go into each piece they make. They have a sense of responsibility to their artisans, community, dealer network, customers, country, and world.
Since 1901 the Kindel Furniture Company has preserved an enduring heritage of craftsmanship, scholarship, and authenticity. From inception, founder Charles J. Kindel had a vision to build the world's finest furniture. Kindel has never wavered from his original vision.