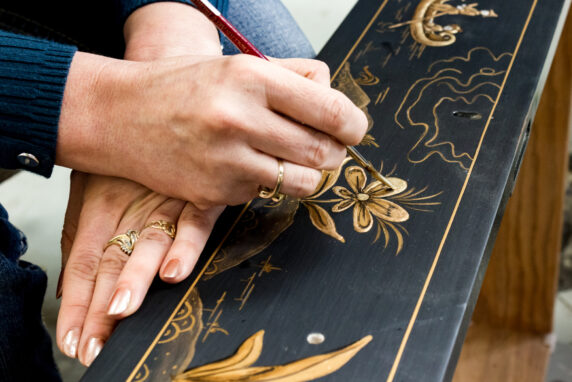 The mission statement of Karges Furniture, in a word: Integrity. It matters not whether you speak of this value on a personal level, a company level or a national or even global level, it is the same. You keep your word. Karges has been doing just that for over a century which is why our reputation for delivering beautiful, high-quality furniture stands strong.
Karges carefully crafts their exquisite masterpieces especially for you in their Grand Rapids, Michigan facility. It is more of a work studio than a factory. They do not do mass production and do not make a product until you order it. Karges artisans are committed to let every chair, desk, table, bed, chest, sofa, and side piece emerge with integrity and handcraftsmanship and be its own unique piece. You may register your piece at Karges as with any piece of fine art.
Fluted and spiral dowel construction, spline and tenon techniques are how they assemble products and have been for over 300 years of fine furniture building. That is the collective age of all our brands. The luxury of modern machines, such as CNC, and duplicate carvers, allow for a safer process for our artisans, yet they do not replace the beauty their artisans' hands add each day to their pieces. While they do marry new techniques and superior process, there is not a piece they make that does not include considerable hand work from their crafts men and women. No machine can duplicate the beauty of hand carving. Undercuts, deep scoops, chisel marks and other details are created by the carver's skilled use of traditional chisels. Their methods are not the fastest nor the cheapest, but they are the best and define Karges as one of the last great American furniture companies.