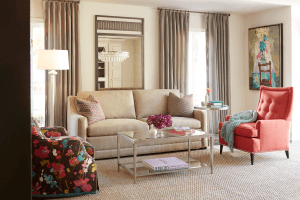 The Jessica Charles story begins with our love of chairs. Every piece is handmade by our skilled craftsmen in North Carolina, each unique and daring with the ability to express who you are. Solid, kiln-dried hardwood frames and eight-way hand-tied springs ensure a lifetime of comfort and durability. Jessica Charles dedication to the art of fine upholstery can be seen in our custom-fitted cushions, beautifully proportioned tufting, and skirts that are precisely cut, lined and mitered for a perfect drape. This is the idea behind Jessica Charles. A chair is meant to embrace. To provide a haven and escape from the buzzing world around you. Its also about style. About your desire to express your individuality and sense of design in your home. Thats why we offer such a wide collection of fashionable coverings. From linen to cotton, from suede to chenille. Dining, living or sitting room. There is a Jessica Charles chair with your name on it.
Located in High Point, NC, Jessica Charles is an accent chair company specializing in upholstered fabric seating. Every Jessica Charles chair has a unique story. Their love for all things fashionable and their commitment to creating comfortable homes extends throughout every step of design and production. Their North Carolina craftsmen hand-make every piece, utilizing time-tested, artisan construction techniques, from eight-way hand tied coils to hand-cut-and-sewn patterns. Their cushions are custom fitted and our skirts are precisely cut, lined and mitered for a perfect drape every time.
Jessica Charles was born into the furniture industry in 1975. Founded by Bill Disque, along with partners Kermit Pierce and Joe Slade, they were originally known as Disque furniture. Their reputation for having the best swivel rockers gave them a niche in the furniture world. From there, they expanded into swivels, gliders, dining chairs, benches, ottomans and settees.
In 1995, they were purchased by Jack Glasheen, Jimmy Moore and Tim Rogers (of Hancock & Moore) and renamed Jessica Charles. Kermit Pierce stayed with the company as Vice President and continued to run the manufacturing side of Jessica Charles until his death in 2018. The company continues to honor his memory today by manufacturing furniture the Kermit way, making sure every piece would meet his flawless standards.
In 2015, as the owners neared retirement, they sold the company to Rock House Farm Family of Brands and became a sister company to Century and Highland House. Today, under the leadership of Alex Shuford, III, the company continues to honor the mission upon which they were founded.