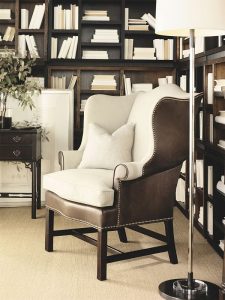 The Hickory Chair Furniture Co. began one hundred and ten years ago in Hickory, North Carolina with a single product and a simple vision. The product was a made-to-order dining chair. The vision was to combine the authenticity of classic craftsmanship with the efficiency of modern manufacturing. In the decades since, their product range has evolved into an assortment of timeless designs, drawn from significant periods and places, and from the talents of some of the world's most respected designers.
Their original vision, however, remains unchanged. Their company is still guided by a genuine commitment to custom craftsmanship and timely service. Their style is still distinguished by an authentic, timeless spirit. And their furniture is still made to order and made to last, by a team of talented and attentive artisans.
Their craftsmen take great pride in accommodating a wide range of requests to enhance and personalize their upholstery designs. They also spend hours on details that few will ever see: custom-engineering each seat to ensure it provides years of consistent, luxurious comfort. From pillow and cushion options to nail head trim, swivel bases to bullion fringes, they don't just allow customers to personalize our timeless upholstery, they encourage it.