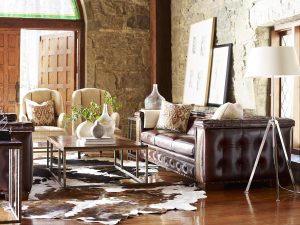 Nestled in the foothills of North Carolina, Hancock & Moore practices time-honored traditions of building upholstery furniture. Consisting of two manufacturing plants with close to 400 employees and 265,000 square feet, Hancock & Moore artisans spend 50 weeks a year building furniture in a family-like environment. Known to house the broadest leather inventory in the industry, Hancock & Moore believes that the distinction in fine furniture is all in the details. Researching trends from the fashion industry, Hancock & Moore incorporates details such as quilting, branding, painting, finishing and lacing into our designs. All products are hand made and built to order – no two pieces will be exactly alike. To this day, up to 80 hours are spent handcrafting a piece of Hancock & Moore furniture. Every sofa, chair and ottoman bears the signature of the artisan who created it, reflecting the hard day's work that went into its construction. To Hancock & Moore, custom-made furniture is the purest form of self-expression. That is why we've have spent the past 40 years creating furniture exactly as you envisioned, making it truly as unique as you are.
Hancock & Moore was founded in 1981 by furniture veterans, Jack Glasheen and Jimmy Moore. Jack never wanted his name to be in the company name, but his devotion for our country's heritage led him to choose the name "Hancock" after John Hancock. Shortly after founding the company, they brought in a third owner, Tim Rogers, to handle the financial side of the business. And so with Jack acting as President and Sales Manager, Jimmy acting as Vice President of Manufacturing and Tim acting as Vice President of Finance, the company was set. Their mission was to make the finest furniture available using only the finest materials and hiring the most skilled artisans in the industry.
In 2015, as the owners neared retirement, they sold the company to Rock House Farm Family of Brands and became a sister company to Century and Highland House. Today, under the leadership of Alex Shuford, III, the company continues to honor the mission upon which they were founded.
Whether traditional or contemporary in style, Hancock and Moore frames are solidly built. The corners are double-doweled and reinforced with corner blocks that are screwed into place. That is how we ensure the joints will remain solid over the lifetime of the piece. Since our foundation, Hancock & Moore has worked from one basic principle–to build fine furniture of uncompromising quality that endures for generations. Up to 80 hours are spent constructing a Hancock & Moore style–the time needed for the quality construction that has become our hallmark. Techniques such as our eight-way hand-tied springs, too labor-intensive for most manufacturers, give us a distinctive niche in the industry. As many as 17 craftsmen will have worked on a single piece, devoting countless hours to creating a Hancock & Moore original.