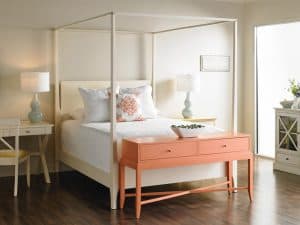 From the best wood comes the best furniture. Gat Creek is at the geographic center of the highest grade Ash, Cherry and Maple in the world. The company's raw material is sustainably harvested from Appalachian forests within a day's drive of the shop. They source lumber exclusively through suppliers like Frank E. Wilson Lumber of Elkins, West Virginia, a fifth generation company that meets strict conservation standards. Stewardship of forest resources in partnership with Wilson Lumber, ITL Northwest Hardwoods, and others has contributed to an increase in the region's population of hardwood trees for the past 90+ years.
They offer a wide range of sophisticated wood tone and paint finishes on every design. Their state-of-the-art finishing facility and advanced operating practices make this customization possible.
Their catalyzed lacquer finish forms a clear, efficient barrier with a close-to-the-wood feel. They optimize the sensory experience of nuanced color, pattern and texture inherent in premium materials and handmade, solid-wood furniture. And their finish is easy to care for holding up to almost any liquid in your home, from water to wine.