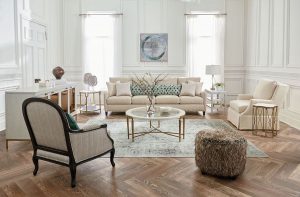 Fairfield Chair is a one-hundred-year-old family of skilled artisans handcrafting quality furniture at an exceptional value. Utilizing techniques that have been passed down since 1921, they execute masterful craftsmanship with a focus on quality, comfort, and design on each piece.

Quality craftsmanship is part of their DNA. It's the fabric of their one-hundred-year-old company and its woven into everything they do. It's why they put attention to detail first, second, and third.
Proudly made in America since 1921, their artisans blend heirloom techniques and current technology with a high level of skill and methodology.
They make it easy for you. Quality, value, style and comfort delivered in a timely fashion from all one place by people who care. Choose from a wide variety of fashionable style, and comfort for the living room, dining room, executive suite… and everywhere in between.
For nearly a century, they've combined masterful craftsmanship with fashion-forward design of fine furnishings for the home, office, and hospitality industries.