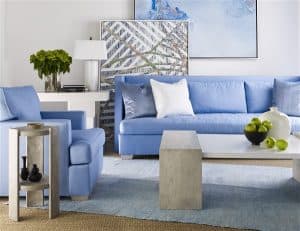 Chaddock is a rapidly expanding American brand that stands for excellent materials, the finest craftsmanship and modern relevance. They leverage their deep knowledge of historical design to create beautifully detailed furniture that is suited to how people live today. Combining a timeless aesthetic with cutting-edge technologies, they manufacture their collections in North Carolina, where the artisanal techniques of generations past still produce truly exceptional design and construction.
Guy Chaddock was an innovator committed to going against the grain when he first started making furniture in the 1950s. Together with a group of skilled artisans, he birthed designs and finishes that were unlike anything else on the marketplace. Cut to modern times, and Chaddock continues to make waves. The brand is committed to bringing furniture-making back home to America, one made-to-order piece at a time.
Chaddock is the breakthrough star of American furniture design and manufacturing. A third-generation, family-owned company, the brand is run by a team of iconic industry leaders and promising up and comers, all humbly committed to shaping the best furniture maker in the world.
Close to 90% of Chaddock pieces are made-to-order in Morganton, North Carolina. Chaddock's skilled craftspeople use artisanal techniques and state-of-the-art technology to make the most high-quality, luxurious furniture available anywhere. While Chaddock is proud of their American heritage, they also recognize that manufacturing furniture in America is also great business, as it allows them the widest variety of options, industry-best lead times, and the highest quality that you can see, feel, and appreciate over time.