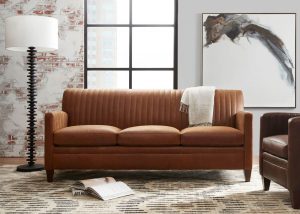 Bradington-Young's corporate mission is to build a "World Class" consumer products company distinguished by the integrity of their products, presentation, value, service, and people. They emphasize the use of their combined resources for the benefit of their customers, associates, vendors, owners, and contribute to the communities, state and nation in which they live and work.
Connecting with those you care about in a comfortable environment has never been more important to you. At Bradington-Young, they're dedicated to providing luxurious seating comfort in quality leather upholstery to help you relax and connect in your family room, living room or home theater.
At Bradington-Young, it all began in 1978 with one simple philosophy: "Build high quality products for a fair price." A humble beginning, combined with a burning desire to be the very best, molded Bradington-Young into the premier furniture manufacturer it is today. Bradington-Young is a division of Hooker Furniture, one of the world's largest and most respected furniture companies.
Operating as a complete upholstery resource with a special dedication to leather, they offer an extremely diverse palette of styles and covers. Whatever the style, each piece is meticulously hand-crafted with the enduring quality that distinguishes Bradington-Young as an industry leader.
They use only the most premium, select leathers from resources around the world. Well over 250 leather selections comprise a breathtaking palette of colors and textures, in supple, natural, highest quality leathers. they also offer hundreds of fabric cover options.
Each style in their extensive product line of upscale recliners, club chairs, sofas, loveseats, sectionals and reclining furniture begins with a simple sketch. Their skilled artisans then carefully construct the frames from only the finest multi-ply, 7/8″ laminated hardwoods. Their sofas, loveseats and chairs feature genuine eight-way hand tied custom coil construction that is unsurpassed in terms of comfort and lasting quality. The mechanisms in their reclining pieces are cycle tested to ensure years of trouble-free comfort and easy, fluid operation.
Whether your desire is stationary or motion upholstery, the result is the same. Bradington-Young's furniture is designed and engineered with enduring quality, outstanding comfort and timeless styling.