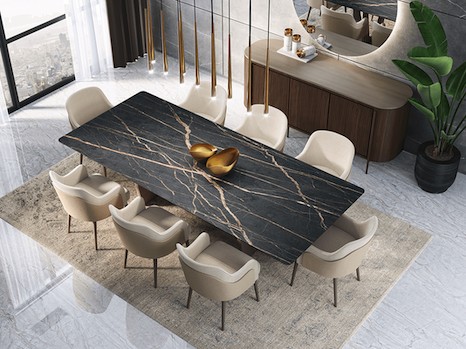 Founded in 1994, Adriana Hoyos Furnishings has grown to become an iconic brand for glamorous design rooted in Latin American style. Family owned and operated, Adriana Hoyos was created for the purpose of offering unique and stylish products with great value in order to enhance spaces and add a flair of sophistication. 
Headquartered in Miami, Florida with manufacturing facilities in Quito, Ecuador, Adriana Hoyos is an international brand with international expertise. With more than 300 employees, the brand's expertise is highlighted by a mix of cutting-edge technology and superb craftsmanship. Due to its flagship stores in South America and network of Registered Dealers all over Central America and the United States, Adriana Hoyos is strongly positioned in the luxury niche of the furniture industry. 
Adriana Hoyos believes that an ambiance is only as good as the impact that it can create. Through their products, they create feelings and sensations that enrich the atmosphere where they are placed. Their ideology is what drives their business decisions and is the standard against which they evaluate their success. The constantly shifting world of design challenges them to live up to the expectations of their brand. 
Adriana Hoyos is thoughtful in every detail. They believe that everything is possible and imbue their furniture with authenticity and personality while creating feelings and sensations. They commit to their values and create courageous designs with glamour.