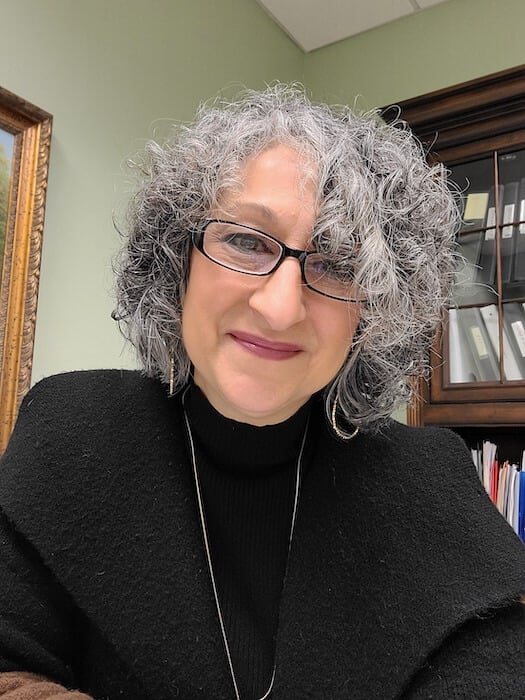 Nancy Wheeler, manager and interior designer of Cabot House Furniture & Design in South Portland, Maine, has 25+ years of residential design experience and 20+ years with Cabot House.
Nancy comes from a family of 9. Her passion and love for design began in her teens when she started sketching floor plans of her New England home. She tried to convince her parents to renovate so she could have a room of her own! Her journey into design began with a sketch on a napkin and evolved into working with blueprints.
Nancy puts her attention to detail and extensive product knowledge to use when making floor plans with furniture, fabrics, floor coverings, wallpaper, and window treatment. Being both the manager and a designer allows her to combine her love of design with her background in business.
She believes each design job is as unique as the people living in the house and derives great pleasure from knowing you love your home.
Lynn  – "Nancy and I have worked together on design projects for three different homes over the past 16 years.  Each project has been different and Nancy has come up with the perfect design to bring out the unique beauty in three very different homes.  She understood my style from day one and has provided comprehensive solutions for each home that balances impeccable design with comfortable living.  Our most recent project together has been interior design work for a lake home down south that has a mountain lodge pine interior.  Her choice of furniture, fabrics, rugs, and window coverings have given the home a modern, upscale feel without sacrificing practicality or comfort.  I wouldn't have trusted the project to anyone else."
Ann Marie T.  – "For over 15 years, I have had the great pleasure to work with Nancy Wheeler at Cabot House. Working with Nancy results in nothing short of an exceptional experience. She takes the time to fully understand where I am and where I want to go with my ever-changing taste and style for my home. Nancy asks the right questions. She listens to my wants and needs for my home. If I start to sway off the path, she takes the time to understand where I am going and why, to ensure the appropriate choices are being made.
Nancy is without question a professional with exceptional design abilities and organizational skills. While she provides advice and several options for each home area of focus, she always ensures the selections are my choices and not hers. She never oversells. She carefully manages within my budget. Nancy is authentic. Nancy is honest. Nancy is patient. I have never felt rushed with making decisions and have never worried about changing my mind on a decision…
My most recent project was a new build. Nancy assisted with the interior design. I wanted a "me" home with a new style and color scheme. She designed a "me" home exactly as I wanted. I absolutely love every room! The final design is perfect!…working with Nancy always results in amazing success!"
Paul D.  – "My wife and I purchased a condo in Portland and went to Cabot House to see if we "connected" with their designer, Nancy Wheeler. Well, we definitely connected with Nancy as she asked all the right questions about our style likes, colors, budget, etc. Nancy did some layouts of all the rooms and presented several options for each. She did a fantastic job in selecting colors for the walls, one wallpaper featured wall and excellent colors in the furniture fabrics. Her selections on the drapes were also terrific and her great relationship with her drapery maker and installer were obvious. The whole package came together seamlessly because of Nancy's hard work and dedication to her profession. We would recommend Nancy Wheeler to family and friends without hesitation."