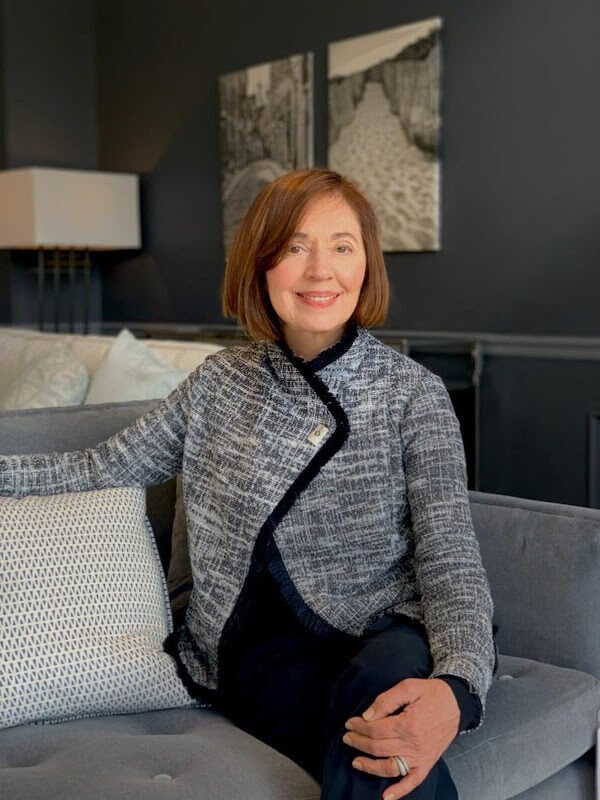 A career as a design professional, in both residential and hospitality design for over twenty-five years, has only increased my passion for design.
I love creating designs that purpose a space to be multifunctional, unique to the client's needs, and inviting. The design process needs to be pleasant, creative, and fun; the outcome needs to be a space created for daily enjoyment.
Being a designer is a special way one sees the world, we absorb design ideas constantly from nature and life around us. There is a huge reservoir of ideas to incorporate into our work and look forward to every opportunity to do so.
Adrianna St Cyr—Over the course of twenty years, I have worked with Maddie Gregory in the complete redesign of three homes, each of different ages and styles.   These projects were extensive. They involved gutting the homes, taking down walls, and repurposing of rooms, including kitchens and baths.  The entire interiors and their surrounding exterior spaces were transformed from tired and impractical into gorgeous and functional spaces.

Maddie provided detailed drawings and written instructions to guide the construction team, never missing any important details. Maddie's timeless design choices created a harmonious environment throughout. Each room flowed beautifully into the other. She considered everything: She incorporated my artwork, personal design preference, use of space, and budget constraints into every aspect of her design. She helped me select absolutely everything that forms a home – from cabinets to fixtures to paint color to furniture and its placement to curtains and to plantings.

Two of these homes were sold at a premium relative to other similar homes in their neighborhoods. Within days of posting, we had buyers competing because Maddie had created spaces that worked beautifully and appealed to many. I currently reside with my family in the third home Maddie has redesigned. Visitors consistently marvel at its beauty and we love it more than words can describe.

All in all, Maddie's design genius is a rare gift. She is humble, kind, soft-spoken, honest, and considerate. Working with her is pure joy. I feel fortunate to have met her and I highly recommend her to anyone who is seeking support with small or large design projects alike.
L. Ritchie – A Lucky Day at Cabot House—When my husband gave me the "go ahead" to furnish the living room, it was at Cabot House where Maddie and I struck gold.  Being impatient, and the holidays around the corner, we were lucky to find floor samples of beautiful pieces they were able to deliver in two weeks.

The antique home I live in has a formal living room, and we found a super comfortable sofa, cocktail table, a lovely Baker demi-lune cabinet, beautiful chinoiserie mirror, elegant Ralph Lauren secretary, along with a comfortable chaise lounge.  I showed Maddie some pieces I loved and she pulled it all together, and we were on budget.  We later added a martini table at every seat, small kilim footstools (for extra comfort), accessories, lots of beautiful books, artwork and plants, and a skin thrown over the oriental, lots of comfy throw pillows, it was complete.

Many hours of enjoyment are spent there.  The room is elegant, yet comfortable and very livable.  I often find my teenage son taking refuge on the chaise with his laptop, even though we have a comfortable casual family room.

Thanks to Maddie's quick thinking and decision making, a dream room came together in an afternoon.